Get Crystal Clear Vision with LASIK
LASIK is one of the most popular elective procedures in the United States—over 900,000 procedures were performed in 2021 alone. That means that 900,000 people are now experiencing crystal clear vision without glasses or contacts. In addition to being widely popular, LASIK is also highly effective. According to recent studies, 96% of people experience 20/20 vision or better following their LASIK procedure. As eastern North Carolina's premiere LASIK provider, our team of dedicated surgeons have helped thousands of patients see 20/20 or better following LASIK. So what are you waiting for?
What is LASIK?
Thanks to incredible advancements in technology, LASIK is now safer, more predictable, and available to a broader group of people. In other words, now is the perfect time for LASIK. But what exactly is LASIK? LASIK is an acronym that stands for "laser-assisted in situ keratomileusis". Like other types of refractive surgery, the goal of LASIK is to improve your vision and help you achieve reduced or total independence from glasses and contact lenses. To do this, the LASIK procedure permanently reshapes your cornea, allowing your eye to focus light more clearly on the retina, which leads to clearer vision.
4
Board-Certified Surgeons
All-Laser, Blade-Free LASIK
One of the most notable advancements in vision correction is the development of all-laser, blade-free LASIK. All-laser, blade-free LASIK uses a unique combination of the most advanced technology to provide a fast, safe, and proven way to improve vision. Traditionally, LASIK used to be performed using a bladed instrument that required manual operation. In 2008, the FDA approved the use of a femtosecond laser, a laser that would replace the bladed instrument. One of the first to adopt this new technology, The LASIK Center of Wilmington Eye is now the premier all-laser, blade-free LASIK provider in eastern North Carolina. With all-laser, blade-free LASIK, your procedure is completely customizable, safe, and precise.
All-laser, blade-free LASIK is performed in two steps:
Using the first laser (called the femtosecond laser), a small flap is created on the protective surface of the eye: the cornea. With advanced medical technology, our surgeons are able to customize the depth and diameter of the flap made to meet the specific measurements of your eye. This can help achieve optimal visual results.
Once a flap has been made, the second part of LASIK is the reshaping of your cornea. Using a second laser (called an excimer laser), we reshape the curvature of the cornea, correcting your refractive errors. Its new shape allows light to be focused more directly onto the retina, significantly improving your vision. Once this is complete, the flap is put back in place to allow the eye to naturally heal.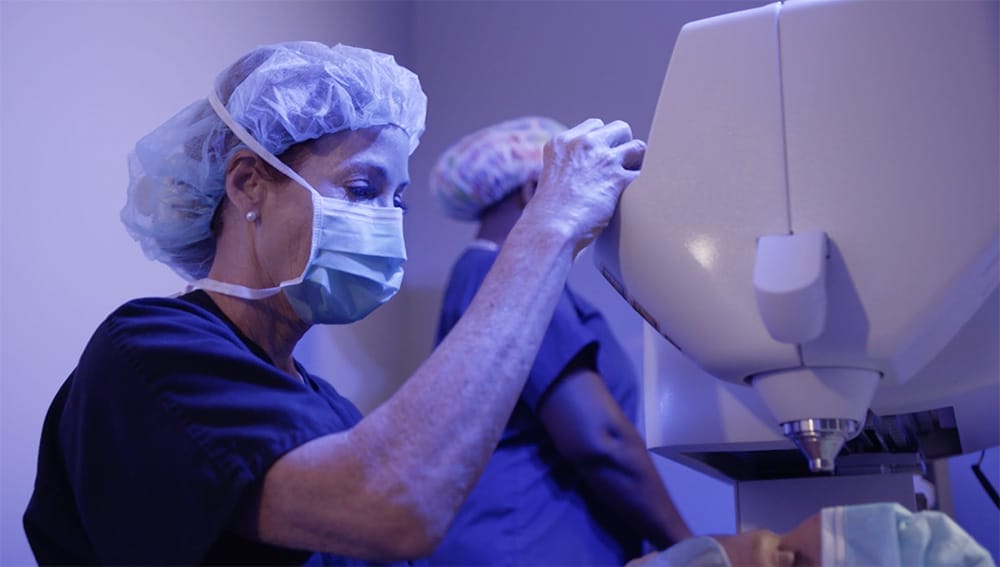 LASIK Is Customized To You
Here at Wilmington Eye, we use the most advanced LASIK technology called iLASIK. This state-of-the-art technology allows us to completely customize your LASIK procedure to your individual eyes. During your comprehensive LASIK consultation, we'll develop a 3-D map of your eye, mapping any optical imperfections that can affect the quality of your vision. With this 3-D map, the iLASIK technology then allows us to provide you with a completely personalized vision correction experience in which we take into consideration your individual refractive errors and all your optical imperfections. With laser precision, we are able to both quantitatively and qualitatively improve your overall vision! With iLASIK, optimal visual results are possible.
Find Out If You Qualify For LASIK
The Leaders in LASIK
As eastern North Carolina's trusted LASIK experts, our team of board-certified surgeons has helped thousands of patients see 20/20 or better following vision correction surgery—reducing and oftentimes eliminating the need for corrective lenses.
With more than 60 years of combined experience in helping patients see clearly without glasses or contacts, we will work with you to develop a custom LASIK treatment plan that provides optimal surgical results. If LASIK is not suitable for your vision requirements, we offer other vision correction procedures that can help you achieve visual freedom.