High Quality Pediatric Vision Care
Identifying and treating eye and vision problems is often the best way to preserve or restore a child's vision. At Wilmington Eye, our pediatric ophthalmologist works with each individual child—from infants to teens—to diagnose and treat eye conditions and diseases and ensure overall visual health. If you feel that your child may have an eye condition or disease, it's important to schedule an exam immediately so that we can detect vision problems early and begin working towards a solution for your child.
Common Vision Problems Among Children
If you think your child may have an eye problem, it's imperative that a full vision eye exam take place with a pediatric ophthalmologist. Early detection and treatment in children can help prevent lifelong vision loss. As a parent, it's important to familiarize yourself with common vision problems that occur among children so that you can work with your child's pediatrician to identify a potential vision problem and seek the right care and treatment.
When to See a Pediatric Ophthalmologist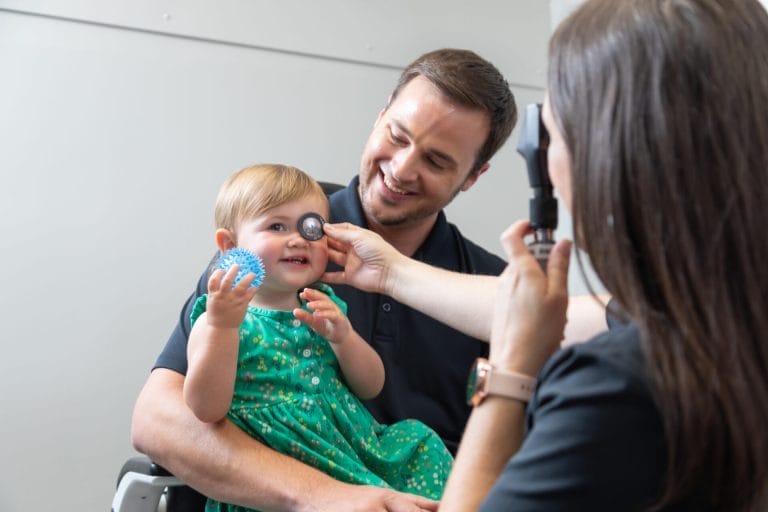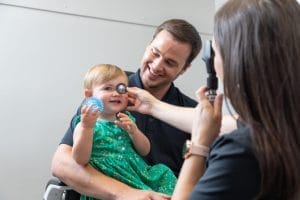 Unfortunately, most children who have a vision problem do not complain or are unable to identify symptoms. It's common, especially for toddlers, to assume that their vision is normal and no different from their peers. Many childhood eye conditions, when identified early, can be treated through various non-surgical methods like prescription glasses, eye drops, or patching. For this reason, it is important for parents to remain vigilant, assess whether a visual problem may be present, and schedule an appointment with a pediatric ophthalmologist when there is concern.
Some signs that your child has a vision problem include:
Crossing in or out of the eyes
Unequal pupils
Eyes turning in, out or in different directions
Tilting of the head
Squinting
Shaking of the eyes
Concerned about your child's vision?
Our experienced pediatric ophthalmologist can assist with diagnosing and developing a treatment plan for any eye disease.
Pediatric Ophthalmology FAQs