Since our founding back in 1975, we have gone through countless transitions—from name changes and office relocations to mergers and new physician acquisitions. But through it all, one thing has remained the same: our philosophy to treat every patient as if they were family. This philosophy began back in 1975 when our three founding physicians, Dr. James Sloan, Dr. David Sloan, and Dr. Frederick Butler first opened the practice and continues on to this day with our 23 providers and 100+ medical staff. It's a philosophy that has allowed us to become the leading provider of specialty ophthalmic care in the area.
Originally called Sloan Butler Sloan, our ophthalmic practice began serving the community in 1975 by treating people diagnosed with cataracts. While surgical procedures and equipment were very different then, we remained on the cutting edge of medicine, offering patients the most advanced surgical techniques of the time. Because of the surgical expertise and exceptional patient care, the community soon began to recognize Sloan Butler Sloan as the most-trusted ophthalmic practice in the Wilmington area.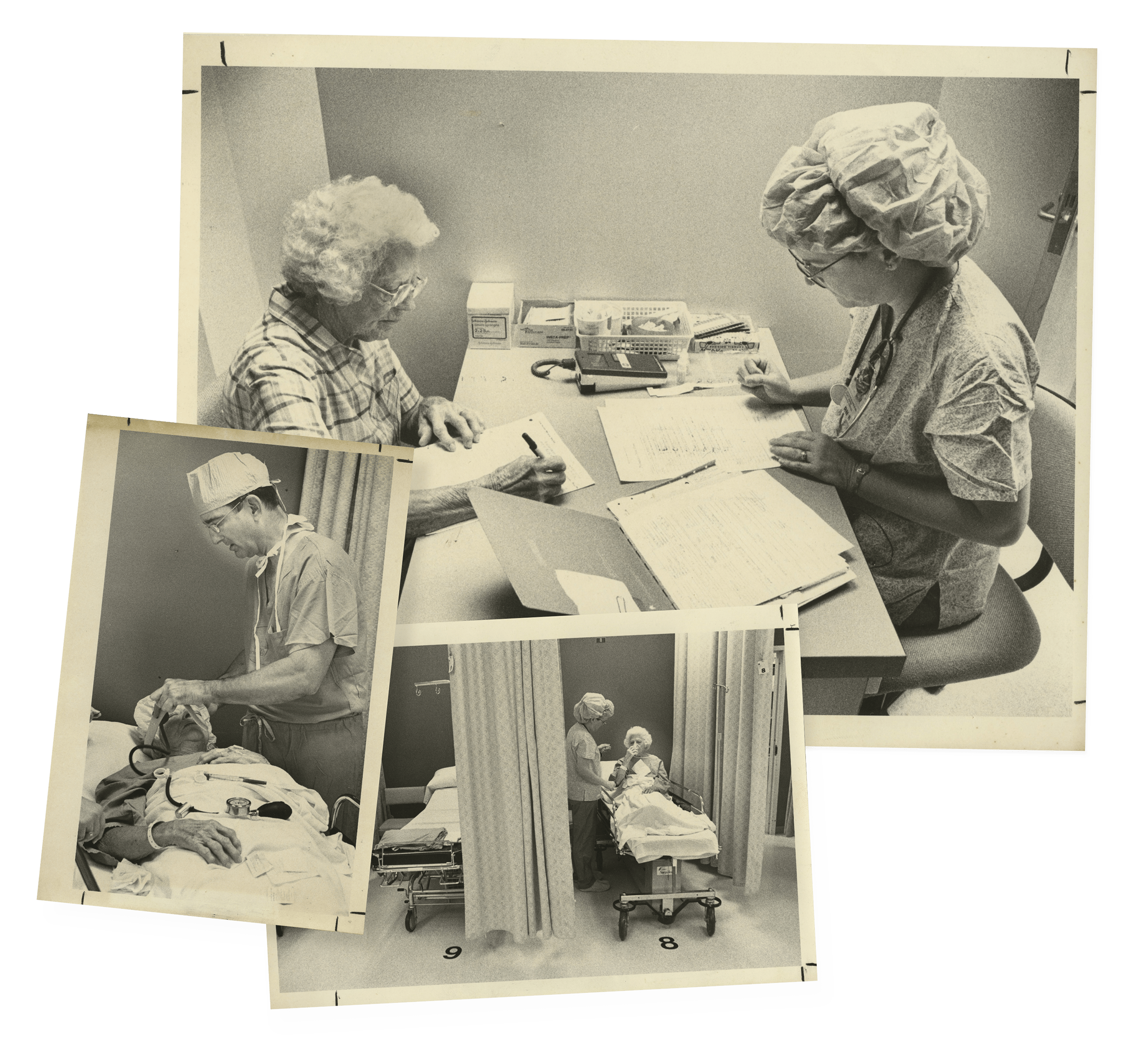 To keep up with the changing city, the growing demands of the community, and the advancements in medicine, in 1990 we began to offer much more specialized ophthalmic care and in 2006 we became the first ophthalmic practice in Wilmington to offer pediatric ophthalmology. Dr. David Johnson, MD, Ph.D. spent 13 years as Wilmington's only pediatric ophthalmologist, where his leadership and medical expertise paved the road for pediatric ophthalmic care in the Cape Fear region.
Then, in 2010, Wilmington Eye brought on its first optometrist, Dr. Amanda Britt Baden. Understanding the important role of preventative eye care and post-operative care provided by optometric physicians, the practice began to build a team that comprised the most reputable optometrists in the state to carry out a more holistic approach to eye care.
In 2013, the physicians of Wilmington Eye achieved another incredible feat. Dr. Kathleen Leone, Navy veteran, and board-certified ophthalmic surgeon, became the first local surgeon to introduce laser-assisted cataract surgery to Wilmington. This new form of cataract surgery drastically improved cataract surgery, making it safer and more effective for patients while improving their surgical outcomes.
As the practice continued to grow and evolve with the community, the need for more space and doctors became apparent and so the practice merged with Coastal Carolina Eye Care, a small ophthalmology practice, in August of 2018 and added two new physicians, Dr. Robert van der Vaart and Dr. Samantha Watson and an additional location in the midtown area.
Again in 2020, Wilmington Eye answered the growing need for specialized care by acquiring a boutique oculoplastic practice with a highly reputable surgeon and medical staff. Oculoplastic Consultants of the Carolinas and Dr. George Escaravage, MD, FACS joined the physicians of Wilmington Eye to expand access to specialized oculoplastic care.
Today, Wilmington Eye has 8 locations, sees patients across 6 counties, has 23 providers, 200+ employees, and runs the area's only outpatient surgery center dedicated to vision procedures.