The Truth About Randy Slack's Life-Changing LASIK Experience
Randy Slack is a radio host, sports commentator, comedian, and recent LASIK recipient! Are you ready to free yourself from glasses and contacts with perfect vision just like Randy?
Take the

Free LASIK Quiz
Randy Slack, morning radio host for Modern Rock 98.7 FM and ESPN Wilmington 101.7 FM
"Having the freedom to never worry about glasses or contacts again is a NO-BRAINER. I'm kicking myself for not getting LASIK sooner…"
Top Wilmington Radio Host, Randy Slack, Frees Himself From Glasses Thanks to LASIK
Life is drastically different for Randy after LASIK. Like so many of us, Randy has been dealing with the inconvenience of glasses and contacts for years. Now, he's free of glasses and contacts, living his dream of crystal-clear vision thanks to Wilmington Eye.
What Differences Did Randy Notice After LASIK?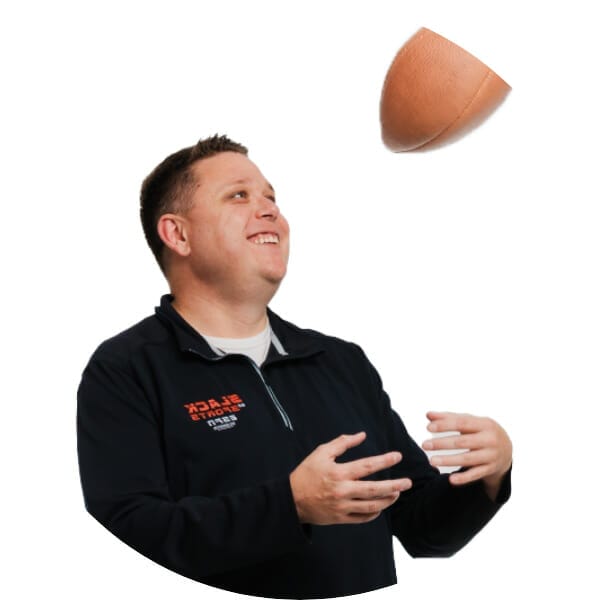 More Freedom
Randy no longer has to mess with "fidgety" glasses that always need cleaning or painful contacts.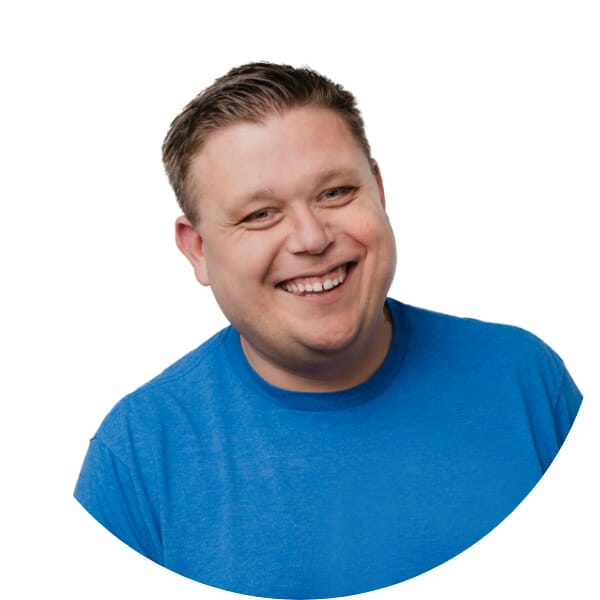 Improved Lifestyle
From laying down to watch TV to improved efficiency in the studio, life is so much easier after LASIK!
Saves Time
Putting contacts in or using drops to keep them lubricated used to take time out of Randy's day. Not anymore.
Saves Money
Randy was spending $1-$3k a year on glasses and contacts. Now, that money goes right back to Randy, year after year.
Why Did Randy Trust Wilmington Eye For His LASIK Procedure?
The surgeons with Wilmington Eye have been performing LASIK since its inception more than 20 years ago. Wilmington Eye also utilizes the most advanced technology available and deploys a thorough screening process to ensure every LASIK recipient receives optimal visual outcomes. It's why Wilmington Eye is the leading LASIK provider for Wilmington and all of eastern North Carolina.
Hear from our other LASIK patients
"Dr. Leone is a sweetheart and I would recommend her to anyone who wants to be treated with respect and care. Very personable and an excellent surgeon who walked me through my LASIK surgery with ease and comfort. Thanks for my new eyes!"

"Dr. Polomsky was such a great person. Wouldn't want anyone else doing my LASIK. The entire team was amazing and helped me out with everything. Best experience!"

"Dr. Leone and her staff were just incredible. I underwent LASIK and now have perfect vision! Everyone was incredibly kind, helpful, and made me feel at ease during every step of the procedure. Highly recommend!"

"Great experience with Dr. Leone and her staff. They were very attentive and professional for my LASIK and PRK procedures."

"Excellent experience. Would 100% recommend to anyone interested in LASIK."

"From my consultation to the actual LASIK procedure, Dr. Springs and his team were amazing. They were very professional and took the time to explain what would happen. I appreciated all the time they took to ensure I was comfortable with everything that would happen."

"Had LASIK done by Dr. Polomsky. The entire process was smooth and his staff is great at making you feel comfortable."

"I was so nervous about LASIK, but the whole team kept me at ease during the entire process. It's so quick, safe, and not nearly as scary as I thought it would be. It was incredible to have 20/20 vision less than 24 hours after the procedure."

"Dr. Leone is kind, professional, and very thorough. She was recommended to me for her skill and honesty. My experiences with her have been wonderful. The LASIK procedure was quick and painless. I will recommend her to anyone I know considering corrective eye surgery!"

"Dr. Leone and the staff at Wilmington Eye made me feel really confident about having a LASIK procedure done on my eyes. They made sure I understood how the procedure worked, what I would need to do for aftercare, and the possible risks associated with it. I was thankful for the way they triple checked everything to make sure I was an eligible candidate for the procedure. Thank you!!"

"I loved the experience I had going through LASIK here! Wonderful staff, great service and excellent results!! Thank you all so much!!"

"I never dreamed in a million years that after this surgery I would not have to wear glasses again. I am still in disbelief. The colors around me are vivid and beautiful. Thank you from the bottom of my heart for giving me the gift of sight. You are an angel."

"A belated thank you for giving my bride her new vision. It's been a whole new world for her, seeing the best since childhood. You and your staff are the best. The process was very easy. Once again, thank you!"

Want to hear more stories from our patients?


View All Stories
It only takes 3-minutes
(The amount of time it would take to put your contacts in to read this)
Take the

Free LASIK Quiz
Is LASIK right for you?
Are you...
Nearsighted?

(You can only see close-up)

21 to 50 years old?
Free of any known ocular disease?
Sick of glasses and/or contacts?
3-Minute LASIK Quiz
Ready for perfect vision free from glasses or contacts?
Fast, safe, and proven
Tailored precisely to your eye
Advanced laser technology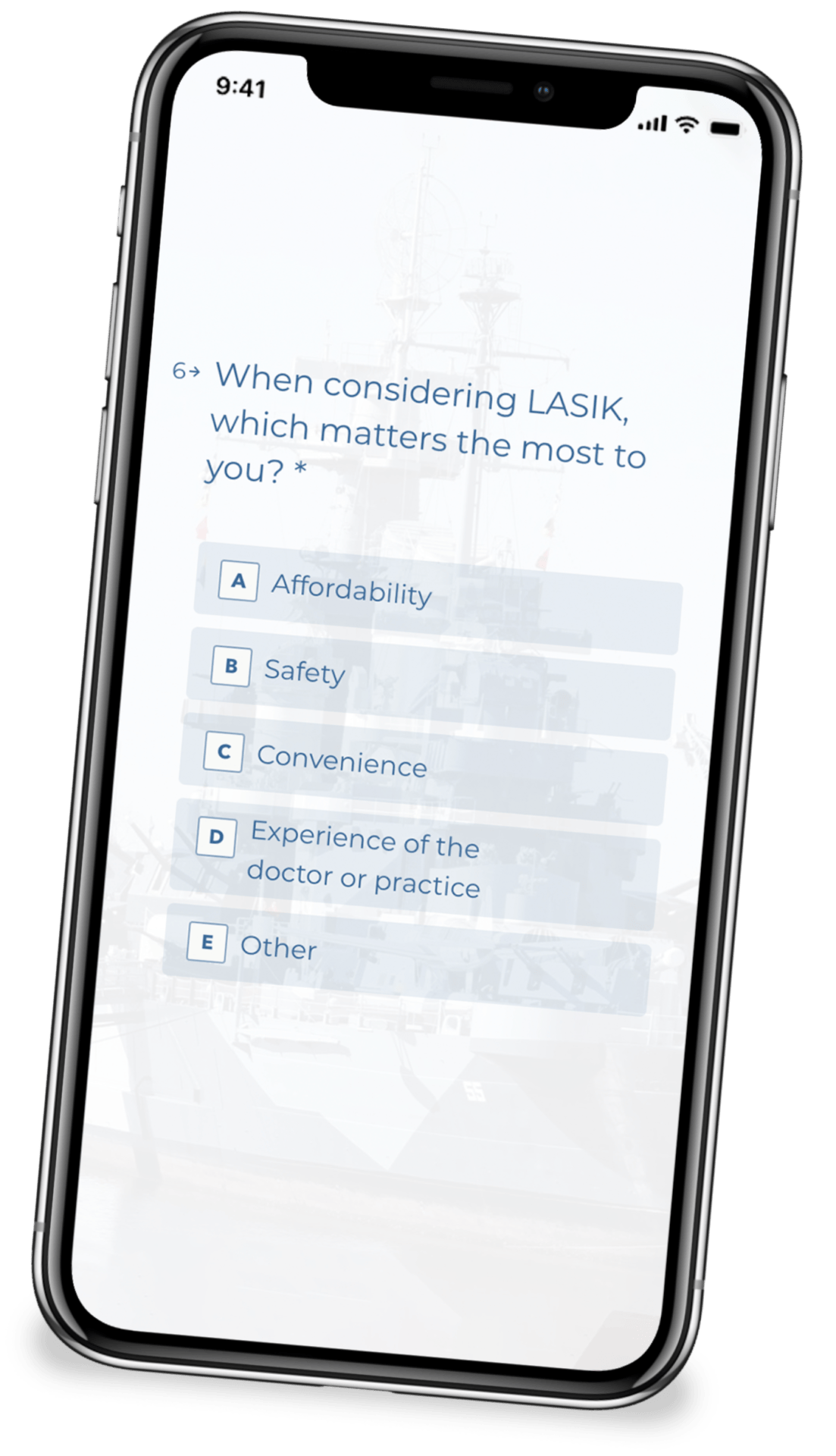 Take the

Free LASIK Quiz
Want To Skip The Quiz?
Schedule a LASIK consultation with our team directly: