Why choose contacts over glasses?
There are a lot of reasons why a person would choose to wear contact lenses over traditional glasses. For some people, it is the ability to play sports. For others, it's the increased field of view. Whatever your lifestyle or aesthetic goals are, our experts can help you get the most out of your contact lenses.
No fog
Full-field of view
Sports friendly
Don't collect precipitation in the rain
Require daily maintenance
Should not be worn by those with dry eye
Misuse can lead to serious eye issues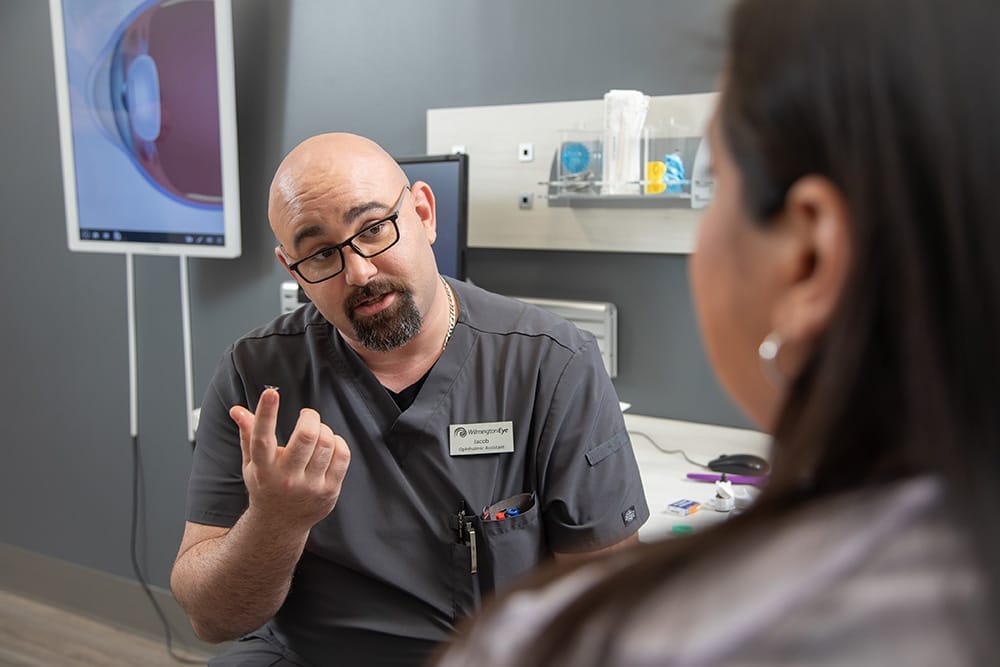 First time considering contacts?
If you have never worn contact lenses, it is normal to have some reservations. At Wilmington Eye, we work with each individual patient who has an interest in becoming a contact lens wearer. First, during your scheduled eye exam, you'll discuss with your eye doctor if contact lenses are right for you. If you have cornea issues or suffer from dry eye, you may not be eligible to wear contact lenses.
If you are eligible to wear contact lenses, our experienced contact lens technician will work with you to ensure your first pair of contact lenses fit and contain the appropriate prescription. We will also walk you through the proper insertion and removal of your contact lenses as well as how to care for your contact lenses. Before you leave, your contact lens technician will have you demonstrate a proper insertion and removal to ensure that you have the confidence needed to perform the task on your own.
How to properly care for your contacts
Contact lenses demand a high amount of maintenance. Proper lens care requires both your contact lenses and your contact lens case to be cleaned daily to avoid potentially serious eye infections. Prior to inserting and removing your contact lenses, it's important to thoroughly wash your hands to avoid infection of the eye.
Another important part of caring for your contact lenses involves adherence to usage time. Thoroughly read the instructions for your contact lenses and never leave your contact lenses in beyond the recommended usage time. Contact lenses range from daily use to extended use so be sure you are aware of the recommended replacement cycle of your contacts. And if you need to make adjustments to the type of contact lenses you use, we can help.
Fitting contact lenses into your budget
It's important to keep in mind that most insurances do not cover contact lenses as they are typically considered elective/cosmetic. Additional fees may vary depending on your visual needs. Our contact lens technician can help you understand the pricing associated with the various types of contact lenses so that we find a solution for your budget.