Wilmington Eye, your area's most comprehensive eye care
Priorit

Eyes

Custom

Eyes

Style

Eyes

Real

Eyes

Maxim

Eyes
Schedule a visit with the trusted vision experts
Leaders in vision care since 1975
Since 1975, Wilmington Eye has been the leader in vision care. What started as only a few doctors and a single location has grown to more than 20 doctors, 6 locations, and a brand-new, state-of-the-art surgical facility. Yet, despite the tremendous growth and change, our philosophy has remained the same: to treat every patient like family.

As the area's largest and most comprehensive ophthalmology practice, we offer complete vision care— from infancy to adolescence to adulthood. Throughout the years, our patients have come to expect superior vision care.
Read Our Story
Our confident team of experts stand behind you
3-Minute LASIK Quiz
Ready for perfect vision free from glasses or contacts?
Fast, safe, and proven
Tailored precisely to your eye
Advanced laser technology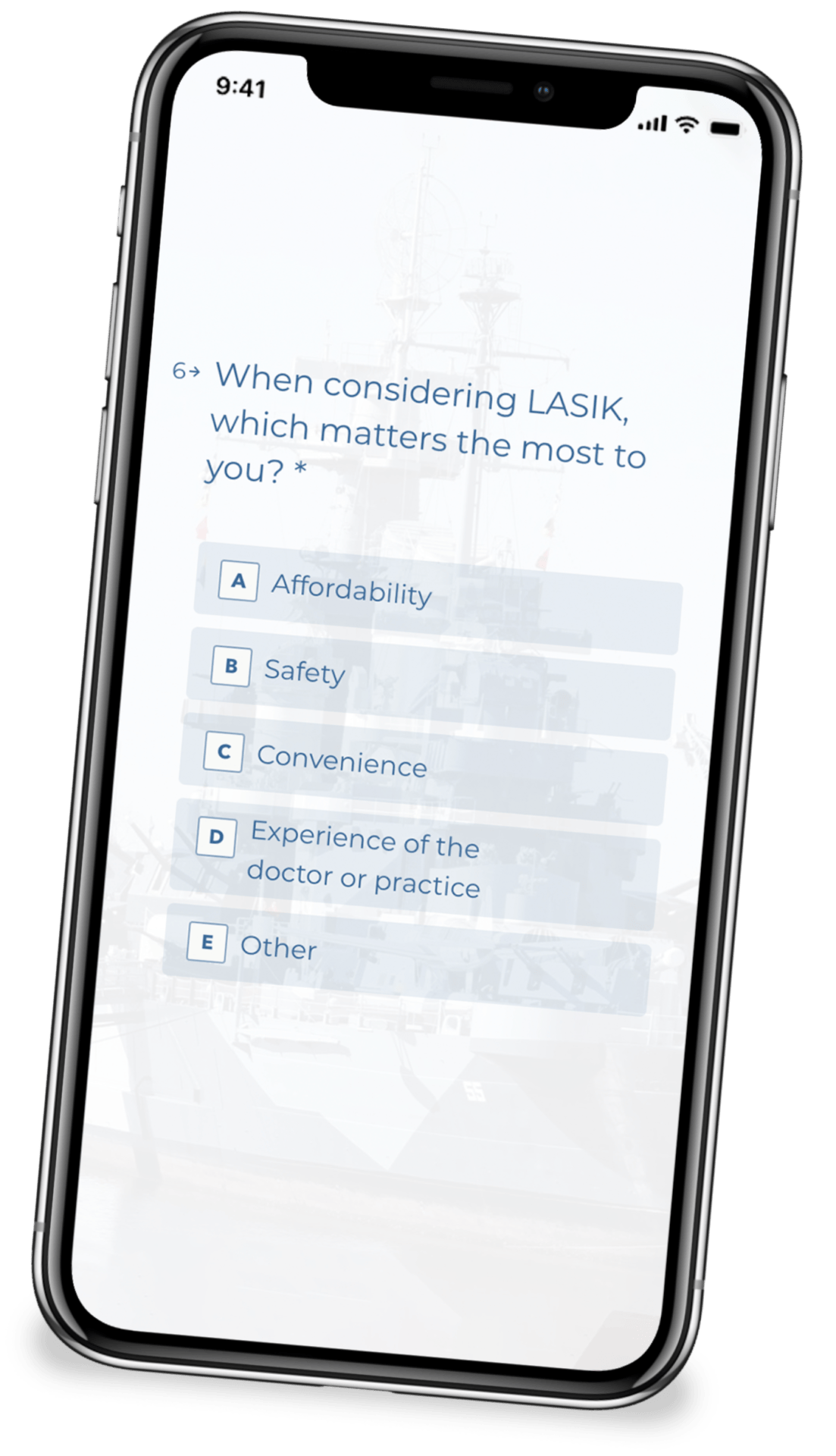 Take the

Free LASIK Quiz
Patient Stories
"Dr. Leone is a sweetheart and I would recommend her to anyone who wants to be treated with respect and care. Very personable and an excellent surgeon who walked me through my LASIK surgery with ease and comfort. Thanks for my new eyes!"

"I love ILM EYE. Ya'll have always taken great care of me. I can't begin to tell you how grateful I am for such care. Older people are often not treated with care so thank you!!!!"

"A great visit and great exam and treatment. The doctor I saw was superb, as is the entire staff!! They are thorough and so very good! Dr. Tisdale is a really great optometrist!"

"Dr. Leone listens to the patient and answers all questions in a clear, concise and easy to understand manner. Literally, every Wilmington Eye team member that I came in contact with conveyed that my comfort and care during my cataract procedure were their top priority. Highly recommend Dr. Leone and Wilmington Eye."

"Dr Shipley and the entire staff is always so patient with my child who has developmental disabilities and autism. Everyone is kind and understanding."

"Dr. Shipley has been amazing to work with along with the staff. I am active duty military and this was by far the best medical care I ever received, it's been a year long journey and well worth it. I can now focus my vision and my confidence has been increasing with every passing day! Amazing work!! Thanks to Wilmington Eye . "

"I had my first eye exam at Wilmington Eye this week. Everyone that I came in contact with was very friendly, courteous and professional. Dr. Alexandra Muncy was no exception! I highly recommend Wilmington Eye."

"Samantha Watson has been my doctor for several years. I have been a patient with Wilmington Eye for over 30 years. The expertise and care I receive is outstanding. The professionalism of the staff exceeds requirements. I can't say enough praise for Dr. Samantha Watson."

"My appointment with Dr. Watson was awesome. She made me feel like she was really concerned about me and my beautiful eyes. The care of my eyes are very important to me and I know that they're in good hands eyes. Thank you, Dr. Watson. You're simply fabulous."

"Dr. Cox is a great doctor. I would recommend Wilmington Eye and Dr. Cox to anyone. Thank you for your service."

"Dr. Baden and her team are amazing. They are thoughtful, listen, and efficient.... I appreciate being able to see the world without squinting again!"

"The office was beautiful, the check-in process was smooth, the wait was short, and the entire staff was friendly, professional, and a pleasure to speak with! Highly recommend Wilmington Eye to everyone."

"My entire experience was wonderful and very professionally done. Everyone was proficient and caring and I felt I was in good hands. They anticipated my every need and explained each step of the procedure."

"Super Service! Very well qualified! Best Eye Clinic I've ever been to in 40+ years."

"Warm, caring, efficient & professional is how I would describe everyone I had contact with from when I called for an appt to when I left the office when my Appt was finished. Extremely satisfied. Highly recommend."

"This was my first visit and I was very impressed with this facility. From their modern and comfortable waiting room, friendly front-desk staff, and knowledgeable, friendly, and professional techs and doctor, it was a great experience all the way around."

"Amazing doctors. I am thrilled with my results. The staff is very helpful and pleasant. I would highly recommend them to any family or friends."

"Wilmington Eye is a great place to go to have your eyes examined whether you have eye issues or just an annual eye exam. The doctors & their assistants care about making sure you understand every aspect our your exam."

"Fantastic experience. Friendly, professional staff! Excellent work, I highly recommend them!"

"Great place for eye care. They schedule an appointment for you and believe it or not they keep pretty good time for your scheduled appointment. Nice folks too!"

"Very courteous, efficient and thorough. What more can you ask for? Came highly recommended by a friend and now I too can highly recommend them."

"I have been a patient of Wilmington Eye since before they became Wilmington Eye. I have always received professional courteous service. I find the staff employed now being a fresh new perspective to the group. I feel respected and welcomed. I trust all of the doctors. Great job!"

"Couldn't have been better. Very friendly, on time and professional. Makes you feel comfortable from the minute you walk in."

"I really like Wilmington Eye. They are always so nice and they know what they are doing. Very professional and efficient! My wait time was about 5 minutes which was pretty awesome compared to my doctors office. "

"Was able to get a quick appt the same day I called. They were able to solve and execute the procedure as well. Very prompt! Quality and professional staff. Highly recommend!"

"The facility was clean and professional. ALL the staff were very kind and welcoming, I especially like the doctor he took time to listen, was very thorough and informative. I would recommend Wilmington Eye."

"The service was the best an eye patient can get in the country. I know, after being cared for by Wilmington Eye since 1986. I can still drive, write, preach and teach the word of God."

"Better than terrific service. Great people skills. Would highly recommend Wilmington Eye to everyone!"

"My whole experience from start to finish was superb, I'm extremely happy with my new eyes. Everyone there was professional & made my visit enjoyable."

"Great doctors and staff! I did not feel rushed and all my questions were respectfully answered. I have been going to Wilmington Eye for many years and will continue to do so. Highly recommend them!"

"I was able to get an appointment for an eye exam very quickly. All staff and clinicians were thorough, professional, and polite. I will happy to return for my annual check-up."

"They are very friendly! Just went today and my 4 year old son was soo excited! They made it fun for him to the point where he was really excited to be getting his glasses!"

"An extremely well organized and very professional organization. The care, service and knowledge is exceptional. Highly recommend this group."

"Professional, friendly and warm staff. From the receptionist, techs, nurses and dr, everyone made me feel relaxed and comfortable. A huge, "thank you!""

"Excellent experience!! Just went here as I moved to NC a couple of years ago and could not be happier with the level of care and professionalism I received. I highly recommend Wilmington Eye."

Want to hear more stories from our patients?


View All Stories