Wilmington Eye Partners with Global Prosthetics
May 2, 2023
Here at Wilmington Eye, we pride ourselves on providing the most comprehensive vision care available at every stage of life. To maintain the exceptional and comprehensive care we are known for, we have partnered with Global Prosthetics, a leading ocular prosthetics practice serving multiple states. Global Prosthetics provides patients with services that involve the care, fitting and custom fabrication of ocular prosthetics, all at our Oculoplastic Center on Medical Center Drive. Each patient's journey is unique, and we are excited to extend our oculoplastic services to include ocular prosthetics.
When Eye Prosthetics Become Essential
During rare circumstances when eye removal is necessary, Wilmington Eye turns to Global Prosthetics to provide patients with the highest quality ocular prosthetic services. Specializing in the fabricating of custom-made ocular prosthetics, Global Prosthetics works with each individual patient to fit and fabricate custom-made ocular prosthetics, or artificial eyes. Global Prosthetics recognizes the uniqueness of every patient's needs and are guided by a commitment to precision, natural beauty, and excellence.
The idea of eye removal undoubtedly sounds scary but, in some instances, it becomes the healthiest option for a patient. Ocular diseases that can lead to eye removal include certain cases of glaucoma, eye cancer, severe trauma to the eye or infection of the eye. The good news is that, even in these unique circumstances, we are able to restore a patient's appearance with an anatomically accurate and natural-looking artificial eye, complete with the ability of limited movement in unison with the companion eye. Through our work and commitment to exceptional care, Global Prosthetics works alongside you, the patient, and your oculoplastic surgeon to deliver the best results, restoring a sense of confidence and wholeness to everyone we see.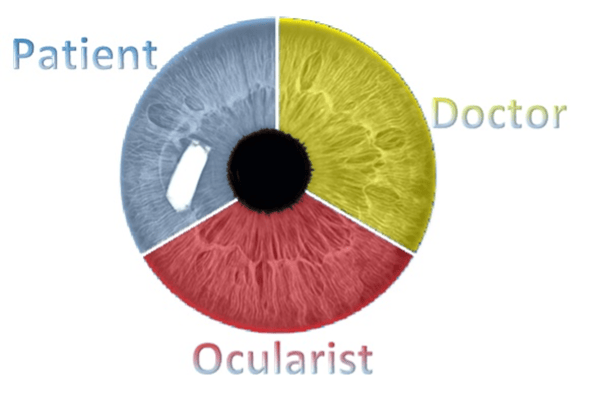 What is An Ocularist?
Many of us have likely never heard of an ocularist, so let's first discuss what an Ocularist is and what they do. An ocularist specializes in the fabrication and fitting of custom-made ocular prosthetics, or artificial eyes. Global Prosthetics is a medical practice that specializes in fitting patients for artificial eyes and scleral covers shells. During rare circumstances when eye removal is necessary, the oculoplastic surgeons at Wilmington Eye rely on Global Prosthetics to restore a patient's appearance with a custom-made artificial eye.
At the heart of Global Prosthetics is owner and ocularist, Tim Brakefield. Tim displays an unwavering passion for patient care and holds decades of experience. Tim's undergrad study began at Samford University in Birmingham AL, in addition to studying abroad in London and Belize. He later earned his BA from the University of Alabama Birmingham and continued his education with the American Society of Ocularistry. Tim took over Global Prosthetics in 2016 and even prior to that, had seen thousands of patients throughout the southeast and is now located in Wilmington, NC. Previously, patients would have had to travel out of state to be seen by an ocularist. Our partnership with Global Prosthetics allows us to give patients convenient access to a highly specialized service locally.
Working with An Ocularist
After eye removal surgery is scheduled, patients meet with Global Prosthetics at Wilmington Eye's Oculoplastic Center, located on Medical Center Drive in midtown Wilmington, before the procedure for a free consultation to discuss expectations and to schedule their post-op appointment. On the day of surgery, an implant will be placed within the socket to both restore volume to the orbit and to allow eye muscles to attach. Later, this will help the prosthetic and implant work together to blink and move in unison. Then, six to eight weeks after surgery, patients can meet with Global Prosthetics again for the next step in their recovery. From there, fabrication and insertion typically occur on the same day. From start to finish, patients can have their appearance restored in as little as 6 – 8 weeks post-op, thanks to our skilled oculoplastic surgeons paired with the care and precision of Global Prosthetics!
Here is what you can expect from working with Global Prosthetics:
Skillful physical and emotional care for each patient and their family
Empathy, understanding, and integrity
Products of utmost quality, comfort, and anatomical accuracy
Strengthened relationships with Optometrists, Ophthalmologists, and Plastic and Reconstructive Surgeons in order to deliver the best possible treatment and rehabilitation of our patients
A lifelong relationship of honesty and trust with every patient and family member
An encouraging environment where each patient, employee, and citizen is respected, appreciated, and championed

To learn more about Global Prosthetics, visit globalprosthetics.net.
Wilmington Eye is proud to partner with Global Prosthetics to help restore patients' appearance, comfort, and confidence. Learn more about ophthalmic services at Wilmington Eye.