Ditch Your Glasses and Contacts with LASIK
If you have ever considered LASIK, there's no better time than now. LASIK is now safer and more effective than ever! Nearly one million successful procedures were performed last year, and thousands of Wilmington residents are enjoying crystal clear vision thanks to Wilmington Eye. Our board-certified surgeons perform the most advanced form of LASIK eye surgery, a safe and effective LASIK procedure that is completely customized to your exact vision needs, delivering exceptional results and helping you eliminate your glasses and contacts for good!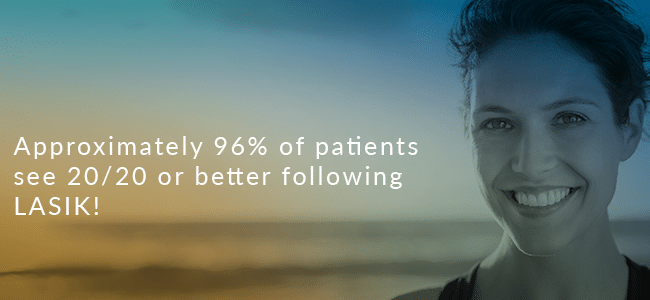 We've spent the past 25 years helping people all across southeastern North Carolina gain freedom from glasses and contacts. Our patients report seeing 20/20 within the first week following their procedure, and 96% of people around the world report seeing 20/20 or better following their own procedure. Ready to schedule your LASIK consultation?
10k
Successful Procedures
Freedom From Glasses for as Little as $250 Per Month
Thanks to incredible advancements in technology, more people are eligible for LASIK. And with financing, everyone can take advantage of the procedure. We partner with CareCredit to offer simple, no-interest financing for up to 18 months. That means that you'll pay as little as $250 per month for LASIK! That $250 per month will cover:
All pre-operative measurements and exams to determine the best procedure for you
A personalized and flexible surgical plan developed by your board-certified surgeon
All post-operative visits for an entire year following your LASIK procedure
As-needed enhancement within the first year of your procedure, if deemed necessary by your surgeon
In addition to affordable financing options, we also accept funds from most FSA and HSA accounts. Please also ask us about discounts for teachers, military personnel, and first responders!
How much money could you be saving with LASIK?
When considering the cost of LASIK, it's important to evaluate the long-term costs associated with your glasses and/or contact lenses. From replacing your glasses to contact lens solution and monthly subscriptions, you can end up spending anywhere from $4,000 to $10,500 over a 15 year period. Imagine what you could do with that extra $10,500 and without the limitations of glasses and contacts!
Schedule Your LASIK Consult Today
State-of-the-art Technology & Facility
At The LASIK Center of Wilmington Eye, we utilize the most advanced, FDA-approved equipment for all of our vision correction procedures. From diagnostic testing to the newest all-laser, blade-free LASIK procedure, we deliver exceptional visual outcomes to patients in a fast, safe, and proven manner. One of the first to adopt this new technology, The LASIK Center of Wilmington Eye is now the premier all-laser, blade-free provider throughout all of eastern North Carolina!
Other LASIK surgeons still use outdated technology. At Wilmington Eye, we believe you deserve the safest and most reliable options for LASIK vision correction. To get started on your LASIK journey, take our free LASIK Self-Test.
Hear From Our LASIK Patients