Achieving Beautiful Results with Dysport
Our cosmetic providers deliver efficacy and stunning results!
Dysport injections are popular and effective at reducing the appearance of lines, wrinkles, and other signs of aging. But at a time when cosmetic services are so widely available—providers can range from your local med-spa to aestheticians and even dentists—it can be challenging to choose the right provider. To determine who to trust for these cosmetic services that address the delicate areas of the face, we'll start out by understanding what exactly Dysport injections are, their benefits and possible side effects, what you can expect on injection day, and how to choose the best provider to achieve the most effective results for your cosmetic goals.
What is Dysport?
Dysport is an injectable neurotoxin used to smooth and prevent fine lines and wrinkles between the eyebrows. Like the popular brand BOTOX, Dysport works by temporarily preventing facial muscles from moving, thus reducing lines and wrinkles from forming in the treated areas.
Dysport injections can also be used to treat muscle spasms. Due to its popularity, BOTOX is often a patient's first choice, however it's best to discuss your desired results and the treatment areas with your cosmetic provider. Ultimately, your provider may determine that Dysport is the best solution for treating your fine lines and wrinkles.
MEDICAL TERM: AbobotulinumtoxinA
The Differences Between Dysport and Botox
BOTOX and Dysport are both types of neuro-muscular blockers made from botulinum toxin type A, and are commonly referred to as neurotoxins. Despite their similarities, there are distinct differences between the two, including the indicated use, treatment areas, and results. Although BOTOX is a more common household name, both have been in clinical use for over 30 years for aesthetic and therapeutic use. BOTOX led the way with FDA approval in 1989 while Dysport gained approval in Europe shortly after in 1990, and later received FDA approval in 2009.
Dysport cosmetic is intended exclusively for treating glabellar lines (forehead lines) while BOTOX is used to treat other areas such as crow's feet and forehead lines. To treat the glabellar lines, Dysport is injected in five points along the forehead and between the eyebrows. Compared to BOTOX, Dysport is comprised of a thinner formula, making it ideal for treating areas that require a greater spread, such as those five points along the forehead. BOTOX is known for having a more concentrated formula for targeted application.
Studies show long-lasting and quick results for both, yet Dysport is often known to last slightly longer and produce more immediate results. Dysport is also typically found at a lower price point than BOTOX, likely due to its less concentrated formula. When it comes to comparing the two, no one is better than the other. Rather, both are uniquely formulated to meet specific cosmetic needs. Ultimately your provider will determine which solution is best with your aesthetic goals in mind.
Who Should You Choose as Your Dysport Provider?
Choosing a cosmetic provider to administer Dysport injections is a decision that should be made with care. Because of the risks involved, it is best to have a physician or plastic surgeon perform Dysport injections. At Wilmington Eye, our cosmetic team consists of board-certified ophthalmologists, fellowship-trained oculoplastic surgeons, and highly experienced physician assistants that treat the eyes and face daily, both for medical and aesthetic reasons. Their expertise in the skin and structures around the eyes and face complement their cosmetic solutions, positioning them among the best providers to treat your cosmetic concerns.
If choosing a physician or plastic surgeon is not an option, it's important to look for other healthcare providers (such as a PA, RN, or CNA) with relevant certifications and experience with injectables. Having a consultation with the cosmetic provider of your choice is often recommended to discuss your cosmetic goals, set realistic expectations, and develop a treatment plan.
Realistic Results Using Dysport
Dysport is known for fast acting and long-lasting results, improving the appearance of moderate to severe glabellar lines between the eyebrows. Though results can vary among patients, improvements are often seen in as little as 24 hours, sometimes immediately! Most users experience improvements within 2 – 3 days which last an average of 3 – 4 months. Some patients report results lasting as long as 5 months.
Satisfaction rates of Dysport users are generally high. Clinical tests revealed that 97% of users felt their results looked natural and 98% wished to receive treatment again. It's important to talk to your cosmetic provider and establish realistic expectations prior to receiving injections.
For the best long-term results, regular injections every 3 – 4 months is recommended, so you will need to schedule regular appointments with your provider.
Dysport Before and After Photos
Risks & Side Effects Involved with Dysport Injections
Dysport is widely viewed as safe and effective. However, like any medication there are possible risks and side effects to consider. The most common potential side effects are typically short-lived and may include:
Throat or nose irritation
Headache
Reaction at the injection site
Nausea
Sinus inflammation
Dysport is not recommended for those over the age of 65, under 18, and those who are pregnant or breastfeeding. You should also not use Dysport if you are allergic to any of its ingredients or cow's milk protein, or if you have had a past allergic reaction to any other botulinum toxin product. Dysport should also be avoided if you have a skin infection along the planned injection site.
In rare instances more concerning symptoms can appear such as an allergic reaction or an upper respiratory tract infection. Another potential side effect to be aware of is a condition known as toxin spread, a risk associated with all botulinum toxin products. Toxin spread occurs when areas of the body beyond the injection site become affected. Symptoms can include problems with swallowing or breathing, muscle weakness, blurred or double vision, droopy eyelids, trouble speaking clearly, hoarseness, or incontinence. It is important to speak with your medical provider if you experience any of these side effects, as symptoms may sometimes become life-threatening.
Your cosmetic consultation is a great time to discuss each of these concerns and your propensity for experiencing side effects. Be sure to disclose any allergies or medications and supplements you regularly take to rule out any unexpected interactions.
Benefits to Choosing an Oculoplastic Provider for Cosmetic Services
The unique advantages our providers offer come down to their unique background in ophthalmology and added specialized training in oculoplastic surgery and facial rejuvenation procedures. The link between ophthalmology and cosmetic treatments are not nearly as far-fetched as it may seem. Both Dysport and BOTOX were originally developed for ocular indications such as strabismus and blepharospasms—conditions which are still successfully treated with BOTOX and Dysport today.
These close ties in ophthalmology, paired with additional specialized training in facial plastic surgery, make oculoplastic providers well suited to administer Dysport to their patients for cosmetic and therapeutic benefits.
Our providers bring the following knowledge and experience to their daily practice:
If you are looking for precision and consistent results in a Dysport provider, look no further than Wilmington Eye.
What to Expect on Appointment Day
Dysport is highly effective at treating moderate to severe lines and wrinkles on the forehead. As you prepare for your appointment, there are some general things you can expect on injection day.
No Makeup: Prior to your appointment, avoid wearing makeup if you can, as the injection site will be wiped clean with alcohol.
Discuss Treatment Plan: Be prepared to point out problem areas you want to target, and your doctor will go over the number of units needed to treat each area of concern.
Injections Are Quick: Treatment typically takes 10 – 20 minutes, and the injections are quick, similar to that of a shot. Numbing cream is optional for those who are more sensitive to pain. Minimal bruising or bleeding may occur but are temporary.
No Exercising: For the rest of the day following your Dysport injections, it is best to refrain from exercising. The resulting elevated blood flow to your face can reduce Dysport's absorption and action.
Resume All Other Activities: Once your appointment is complete, you can return to work or your normal daily activities. However, avoid applying sunscreen or makeup over the injection site to prevent infection.
No Scrubbing At Night: At night, refrain from scrubbing or pressing on the injection site too firmly. Also, refrain from using any cosmetic devices such as micro needles, gua sha, jade rollers, or light wands.
Aside from these few minor considerations, downtime after Dysport is minimal and users are typically able to resume normal activities immediately after treatment!
Our Full Suite of Cosmetic Services
In addition to Dysport injections, we also offer the full spectrum of cosmetic care. We offer the most popular cosmetic products and services, as well as the latest in aesthetic treatments only available at Wilmington Eye.
---
BOTOX, Dysport Injections, & Fillers to address concerns such as frown lines, forehead lines, glabellar lines, crow's feet, nasolabial folds, thin lips, sagging cheeks.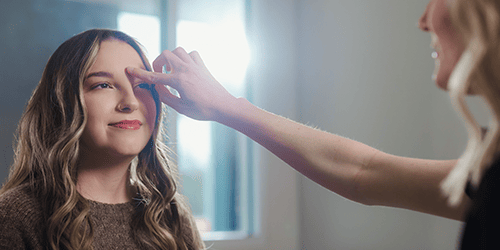 Laser and Light Treatments for treating lines and wrinkles, dark spots, scars, stretch marks, sunspots, rosacea, large pores, dry eye, hyperpigmentation, tattoo removal.
Medical-Grade Skincare to provide daily at-home support in treating fine lines and wrinkles, sun damage, dark spots, scarring, oily and acne prone skin, large pores, aging lashes.
Oculoplastic Procedures can treat visual impairments and enhance appearances! These procedures range from eyelid and forehead lifts to cyst removals, cancer reconstructions, and more.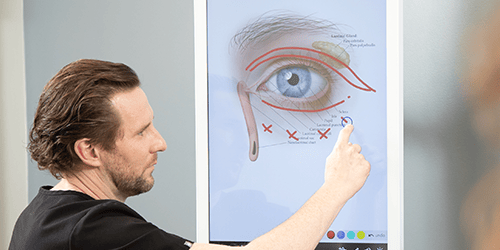 The providers at Wilmington Eye are experts in the tissue, muscles, ligaments and structures surrounding your eyes and your face, allowing us to deliver results that others cannot. Through industry-leading products and state-of-the-art procedures and services, our patients achieve youthful, healthy-looking skin that gives you natural looking, long-lasting results. Schedule your cosmetic consultation with Wilmington Eye today to experience excellence in cosmetic care.